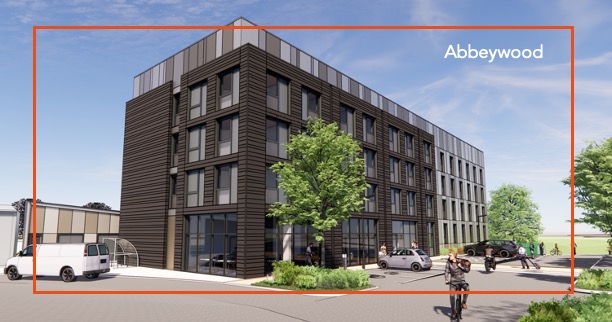 We are excited to begin the new year with the announcement of a successful deal advising Travelodge in its acquisition of a hotel development in North Bristol, the latest in its continued expansion into the South West region.
Opening in Spring of next year, the building will consist of 85 new hotel rooms, with the development also housing new bar and café facilities as well as a standalone Greggs outlet. Located in Abbey Wood Retail Park, the hotel will be easily accessible from the M4 and M5, making it the ideal location for those on business trips or tourists looking for a place to stay while exploring the city.
The hotel, which will be the seventh Travelodge endeavour in Bristol, will also be one of the first in the country to feature Travelodge's new premium budget-luxe design. With a focus on reducing, reusing and recycling materials to help decrease the carbon footprint of the building, sustainability will be at the heart of its design. The hotel will use low energy lighting, motion sensing control and aerated showers, as well as carpets that have been produced from recycled fishing nets and plastic bottles. These great initiatives will result in Bristol being home to the greenest Travelodge model in the UK.
The acquisition of this building comes at a time when the hotel industry in the UK continues to grow, following the COVID-19 pandemic, as more and more holiday goers opt for staycations over holidays abroad. It's a great addition to the area that is sure to encourage further domestic tourism to the area.
Andrew Batchelor, Partner, commented on the news:
"This acquisition marks an exciting time for Travelodge, which is expanding its new offering, and for Bristol, as our hotel industry continues to grow with increased travel across the UK. What a great way to start the year – I'm looking forward to more exciting deals in the coming months!"
Gemma-Jane Gunnery, Senior Associate Director, said:
"It's great to have this deal over the line. Travelodge's new budget-luxe design is the perfect offering for the area, as holidaymakers in the UK are hoping to keep costs low. I'm looking forward to the unveiling of the hotel next year."
Congratulations to Andrew Batchelor, Gemma-Jane Gunnery and the whole of the development team for their work on this fantastic project! For more information regarding Hartnell Taylor Cook's involvement in the project, please contact Andrew Batchelor via [email protected] or Gemma-Jane Gunnery via [email protected].
htc.uk.com