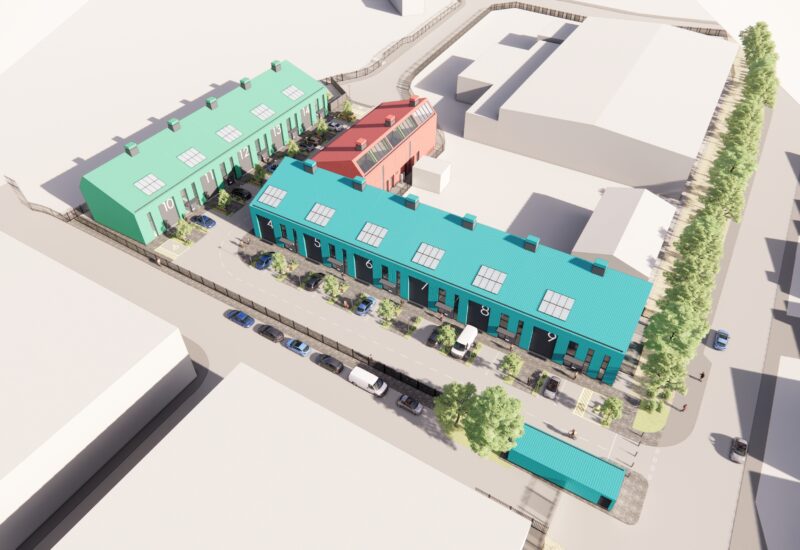 The Industrial Agency team are proud to be working with Bristol City Council on the lettings and management of 601 Whitchurch Lane Enterprise Park, an industrial scheme that will see 14 Light Industrial Units brought to the Bristol market.
Totalling 18,290 sq. ft, these units will be finished to a shell and core specification and vary in size from 810 to 2,960 sq. ft, providing for maximum flexibility and catering to a wide range of tenants. Each unit is equipped with EV Charge Points and has been awarded a BREEAM certification of Very Good – testament to the quality of the scheme that has been developed with sustainability at its heart.
With supply low in Bristol, this new scheme will bring high quality industrial space to the city. Located in the Bristol suburb of Hartcliffe, the units can be found off Whitchurch Lane, just 30 minutes from Bristol City Centre.
Available from June 2023, the new development aims to increase employment in the surrounding area, with the space geared towards providing workspace for medium to high-density employment following LPA planning and conditions – rather than low density employment uses like storage – thus benefitting not only Whitchurch, but Bristol on a wider level.
William Shortall, Senior Surveyor in Industrial Agency at Hartnell Taylor Cook, commented on the news:
"The team are looking forward to the units' release this summer – located a stone's throw away from Bristol's bustling city, Whitchurch Lane Enterprise Park is set to be an exciting opportunity for those looking for flexibility. Bristol is in need of more quality warehouse space, and we are happy to be providing a wide range of available sizes."
To find out more about the project or other industrial property opportunities, contact William Shortall at @[email protected].