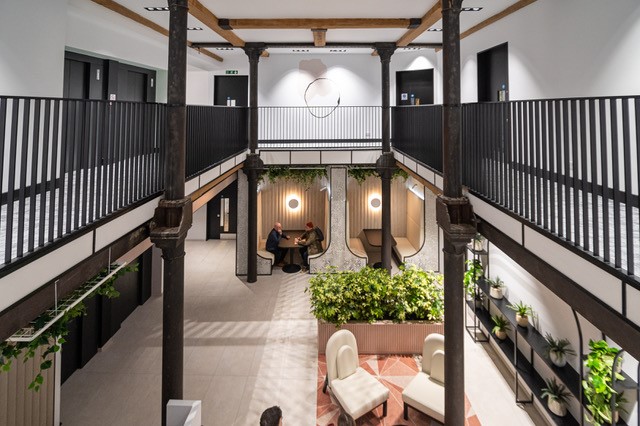 We're proud to announce that the refurbishment of the reception at 52 Princess Street in Manchester, a modern workspace in a stunning period building, has now been completed. With a new concierge desk for Marcus, the on-site building manager and seating areas for informal meeting spaces, the reception has been transformed into a modern business lounge.
Refurbishment of the lifts is currently underway and is scheduled to complete by October 2023. Further refurbishment of the basement is in the pipeline, with a suite of facilities set to be installed including a secure cycle storage area, drying room, showers, and a changing room with lockers. Enhancement of the welfare facilities for building users makes 52 Princess Street an attractive place to work and meet.
Located in the heart of Manchester City Centre, 52 Princess Street is just a few minutes' walk from the Oxford Road train station and St. Peter's Square tram stop, providing access to all major transport links. The building provides approximately 37,023 sq. ft of office space and with self-contained, Cat-A fit-out private offices – ranging from 426 sq. ft to 6,912 sq. ft – readily available for tenants, they have the luxury of choice when deciding what they want their working environment to look like.
Kevin Mills, Senior Associate Director of Property & Asset Management at Hartnell Taylor Cook, commented on the news:
"The new reception area of Princess Street is spectacular. It strikes the perfect balance between comfort and professionalism, which is bound to appeal to a range of tenants. The building itself is perfectly located in the centre of a bustling city and provides a great space for businesses to grow and flourish."
To find out more about the refurbishment or other property management opportunities, contact Kevin Mills at [email protected]. If you're interested in a space at 52 Princess Street, please get in contact with the agents on the property listed below: