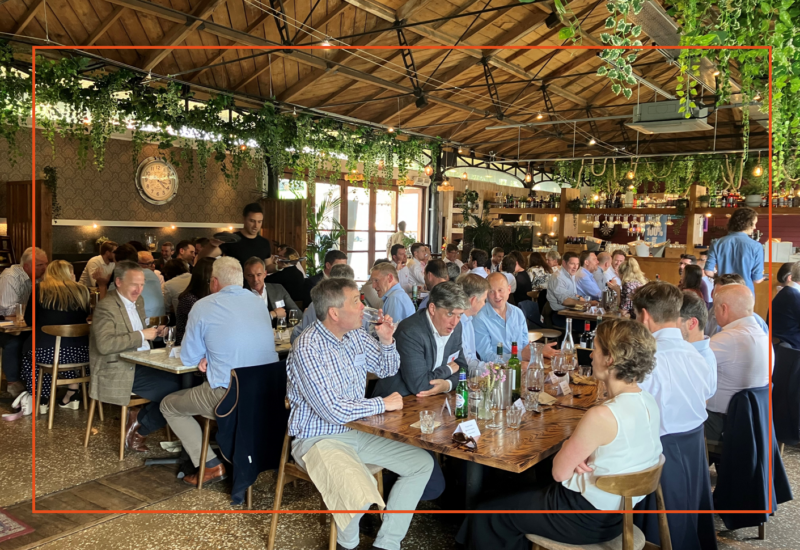 Last week saw the return of Hartnell Taylor Cook's annual Bristol bus tour, where we invited friends, clients, and colleagues on a tour of Bristol's commercial market highlights as part of our Annual Property Review.
Despite rising inflation and interest rates, Bristol has weathered the storm of the past year well, demonstrating resilience across all sectors and highlighting the city's ability to embrace change in a commercial property market constantly in flux.
This year, the tour highlighted up-and-coming areas of activity in the city earmarked for future growth, as well as bright spots already existing in the market, travelling through Cribbs Causeway, Aztec West and Filton before heading into the city to visit established areas around Victoria Street and Cabot Circus as well as exciting new areas of the city around St Philips and Temple Meads.
The tour also visited the innovative new Science Creates building in Old Market to hear from guest speaker Dr.Harry Destecroix, scientist and founder of ScienceCreates, a Bristol-based deep tech ecosystem aimed at helping scientists and engineers accelerate their ideas.
For those who couldn't make it, we've compiled a brief overview of Bristol's current commercial property outlook below.
Investment
2022 began on a positive note for office investment figures, but a calamitous mini-budget and looming ESG costs led to an overall investment of just £17.2 billion across the UK – 28% lower than 2021's total.
This sentiment was echoed in Bristol, where total investment volumes fell behind the past decade's average with an average market yield of 6.8%. Despite this decline, the sector remains Bristol's largest in terms of commercial property investment, and evidence shows there is still institutional appetite for prime office investments – particularly from family offices and private property companies.
Industrial
Overall, the Industrial and Logistics markets saw heightened activity over 2022, though take up dropped back from 2022's peak level to 2.37 million sq. ft. This is likely due to a rise in interest rates, construction costs, and the softening of yields; resulting in developers putting their plans on hold.
Supply currently sits at 2.5 million sq. ft, with the future looking bright as the development pipeline of mid box and larger distribution units come close to completion. While demand is expected to continue on its upward trajectory, significant rises in rent and capital values are unlikely to be sustainable.
Offices
Bristol's office market makes up 21 million sq. ft. of space, with 75% lying in the City Centre – fuelling the extraordinary levels of activity that have made the city one of the Big 6 UK locations. Despite a volatile 2022, current indications show that the market is restabilising.
Supply of office space in the City Centre remains at low levels and the enduring demand experienced means that despite supply increasing with the completion of new developments we predict continued rental growth into 2024.
Retail
Bristol's prime retail destinations of Cabot Circus in the City Centre and The Mall at Cribbs Causeway are performing well, however, the Broadmead district has suffered in recent years and is in drastic need of a transformation.
Despite this, the future is promising, with regeneration plans and major developments with sustainability at heart in motion, which we hope will breathe life back into the City Centre and reflect the true identity of Bristol's modern aesthetic.
Chris Grazier, Head of Hartnell Taylor Cook's Bristol Office, said:
"The team here at HTC always look forward to the bus tour – it's a fantastic way for us to show our love for the city we live and work in to clients and colleagues alike. Bringing the commercial property market to life through this tour has always been one of our high points of the year and this year was no different. Many thanks to all who came along to celebrate another year of this HTC tradition!"
For more information regarding Hartnell Taylor Cook's involvement in the project, please contact Chris Grazier via [email protected]